Ritual Fine Foods
Ritual Fine Foods was developed by James Beard award-winning cookbook author Sarah Owens, who honors the cyclical nature of our lives through seasonal, celebratory, or traditional foods with contemporary interpretation. Fermentation techniques are coupled with heirloom or modern ingredients bred with integrity to increase flavor, digestibility, and nutritional benefit of unique baked goods and preserves!
Sarah Owens is currently leading wholegrain baking courses online and scheduling in-person teaching opportunities for 2023 and 2024. If you are interested in receiving new recipes, personalized coaching, and a newsletter, please consider becoming a supporter through Patreon.
Please visit our Events page for a listing of online and hands on workshops. Some virtual workshops are available to purchase as recorded links. We do not offer refunds or credits on purchased workshops either virtual or hands-on. Please read through the descriptions carefully.
Follow Sarah on Instagram: @Sarah_C_Owens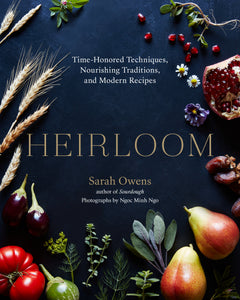 Author of:
Heirloom: Time Honored Techniques, Nourishing Traditions, and Modern Recipes is now available for pre-order! 
Toast & Jam: Modern Recipes for Rustic Baked Goods and Sweet & Savory Spreads
James Beard awarded Sourdough: Recipes for Rustic Fermented Breads, Sweets, Savories, and More. 
Available from:
Barnes & Noble
Powell's
Indiebound
Amazon
Roost Books