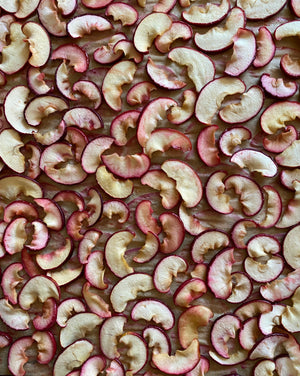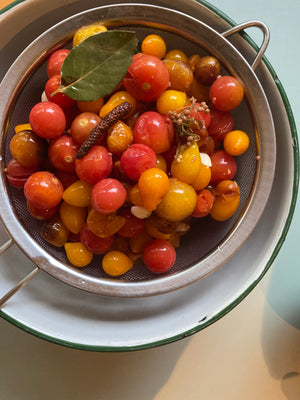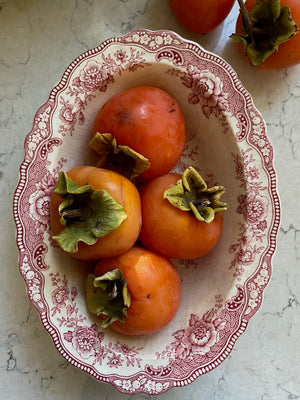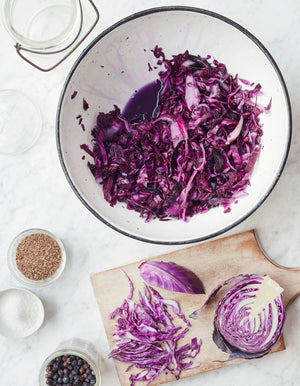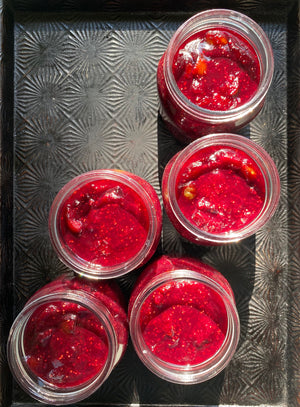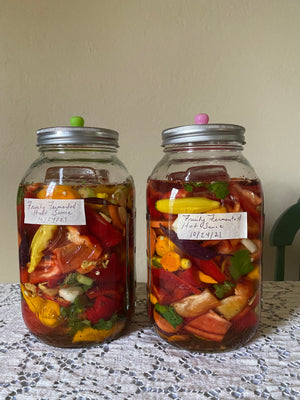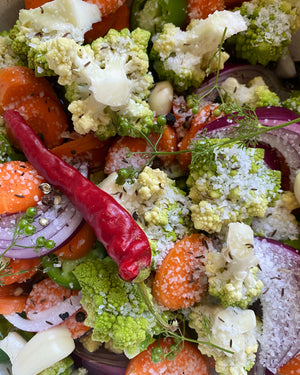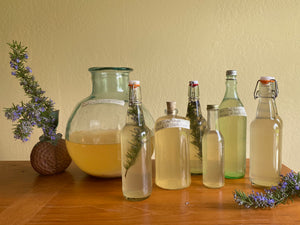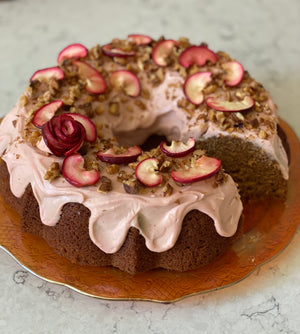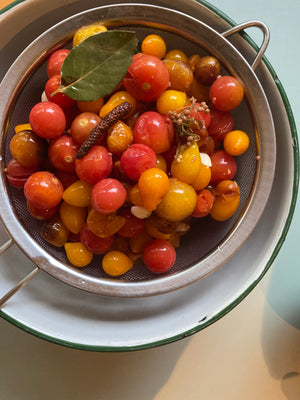 Preserving the Seasons Course - Autumn
Zoom and Circle*
August 30, September 6, September 13, November 8, November 15, 2023
11am PT, 2pm EST
PLEASE READ CAREFULLY BEFORE REGISTERING
Did you overplant tomatoes, and now wondering how to store your bounty for the winter months? Purchase too many hot peppers at the farmer's market, lured by the impressive variety of colors and flavors? Do you have an apple tree laden with fruit? Are you curious about the flavor, nutritional benefits, and science of lacto-fermented preserves? This introductory course may be right for you!*
We will meet for five Zoom workshops that straddle the end of summer into late autumn, exploring various methods of preservation inspired by global flavors and food traditions. Sarah will provide you with recipes and fermentation percentages through a course platform called Circle that provides cultural context and some basic science.* All workshops will be recorded for later viewing and will be available for review for up to six months. Sarah will perform demonstrations in class using fresh produce with follow-up processing demos either in class or through prerecorded videos. Trouble-shooting takes place during class and also on the course website, so participation in both is highly encouraged.*
Techniques such as fermentation, dehydration, oil curing, vinegar preserves, alcohol preserves, and hot water canning will be addressed in September workshops. These methods can be used with a variety of fresh produce or foraged ingredients and we will discuss substitutions and adaptations depending upon what is abundantly in season and your taste preferences. In addition to preparing these staples of the winter pantry, we will reconvene in November to finish some ferments and prepare goodies for the holiday season such as delicious appetizers, salads, braises, drinks, and fruit cakes using our bounty.
Necessary equipment includes fermentation weights and airlocks, mason jars of various sizes, larger jars or demijohns, hot water canning tools and preserving pots, a dehydrator, and smoker. Kitchen hacks will be offered to simplify some of this equipment, including harnessing the sun's intensity and a charcoal grill to produce similar results. Time and observation will be key ingredients of many of these recipes, so be prepared to prime your patience and attune your senses to your unique ingredients and climatic conditions. Some examples of recipes and techniques may include:
Tomatoes: Brine-Fermented Red or Green, Oil-Cured Dried Tomatoes, Passata, Fermented Bloody Mary
Peppers: Brine-Fermented Gingered Peppers, Fermented Fruity Hot Sauce, Ajvar, Chipotle Peppers, Adobo Sauce, Salsa Macha
Cruciferous Vegetables: Apple Kraut, Kelp Kraut, Spicy Kohlrabi Kraut, Fresh and Fermented Slaw, Fermented Joseon-mu (Korean radish) with Asian Pear, Escabeche Pickles
Summer Squash: Dried Zucchini, Sicilian Marinated Zucchini
Pome Fruits: Apple Cider Vinegar, Apple and Quince Paste, Rumtopf, Chutney, Dried Apples, Verjus Applesauce, Fruit Cake
Persimmons: Spicy Persimmon Shrub, Persimmon Mustard, Persimmon Ketchup
Berries: Blackberry and Fig Preserves, Rumtopf
Roots and Herbs: Prepared Horseradish, Beet Kvass, Fermented Herb Honey, Fermented Garlic Honey
*This course is taught through two online platforms: Zoom for the workshops and a website called Circle where the handouts and recipes are hosted. You will be required to navigate technology that may be unfamiliar to you and to deal with the frustrations and rewards that this brings. We are a small team and cannot offer tech support for using the world wide web, including password assistance, logging on and off of websites, etc. Please consider that there are innate hiccups and glitches in technology that are beyond our control or influence. Consider this before registering. Recordings and recipes are not available for stand-alone purchase.  
No refunds or exchanges.