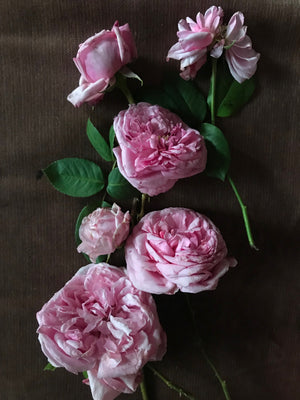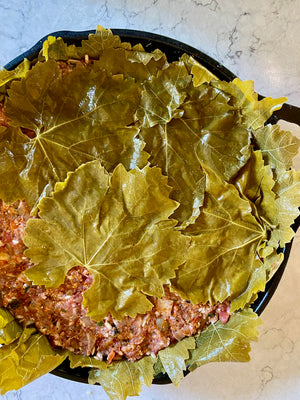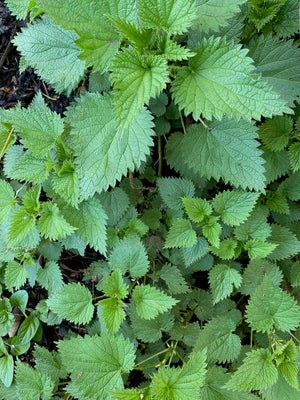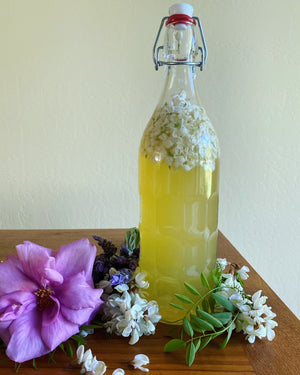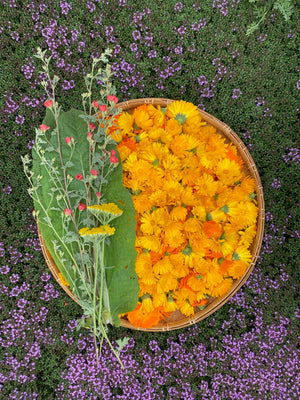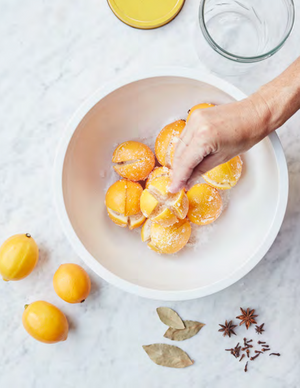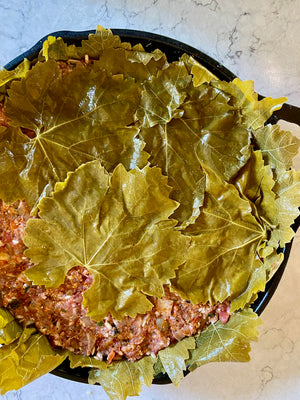 Preserving the Seasons Course- Spring
Zoom and Circle*
May 1 - 27, 2024
11am PT, 2pm EST
PLEASE READ CAREFULLY BEFORE REGISTERING
Do you crave the verdant emergence of spring, only to be overwhelmed with the abundance of fresh peas, garlic scapes, and wild greens? Are you curious to learn how to preserve grape leaves and what to cook with them? Do you want to learn how to bottle the perfume of jasmine flowers or preserve rose petals in a jam? Want to learn how to make a spring bitters blend for toning the liver? Excited by the sweetness of pastured dairy in the springtime but unsure how to culture it? This course may be right for you!*
We will meet for four Zoom workshops that cover four to five recipes a week. Each class will celebrate the bounty of late spring, exploring various methods of preservation inspired by global flavors and food traditions. Sarah will provide you with recipes and fermentation percentages through a course platform called Circle that provides cultural context and some basic science.* All workshops will be recorded for later viewing and will be available for review for up to 2  months. Sarah will perform demonstrations in class using fresh produce with follow-up processing demos either in class or through prerecorded videos. Trouble-shooting takes place during class and also on the course website, so participation in both is highly encouraged.*
Techniques such as fermentation, dehydration, oil curing, vinegar preserves, alcohol preserves, and hot water canning will be addressed. These methods can be used with a variety of fresh produce or foraged ingredients and we will discuss substitutions and adaptations depending upon what is abundantly in season and your taste preferences. In addition to preparing these staples of the spring pantry, we will cook, bake, and sip a few recipes together to celebrate our preserves. 
Necessary equipment includes fermentation weights and airlocks, a jun culture, a milk kefir culture, mason jars of various sizes, hot water canning tools and preserving pots, and a dehydrator. Kitchen hacks will be offered to simplify some of this equipment, including harnessing the sun. Time and observation will be key ingredients of many of these recipes, so be prepared to prime your patience and attune your senses to your unique ingredients and climatic conditions. Some examples of recipes and techniques may include:
Peas and Asparagus: Brine-Fermented Snap Peas, Oil-Cured Pickled Asparagus
Grape Leaves: Brine-Fermented Grape Leaves, Grape Leaf Meat Pie, Vegetarian Dolmades
Cruciferous Vegetables: Fermented Cabbage Leaves, Sarmas, Radish Kimchi
Roots, Shoots, and Herbs: Springtime Bitters, Nettle Tea, Korean Pickled Garlic Scapes
Springtime Flowers: Gulkand, Jasmine Jun, Kefir-Whey Soda
Dairy: Cultured Cream, Kefir
Strawberries: Strawberry and Rose Shrub, Strawberry and Meyer Lemon Honey Jam
Mushrooms: Fermented King Trumpets, Oil-Cured Pickled Wild Mushrooms
Citrus: Salt-Preserved Meyer Lemons, Meyer Lemon Rum Marmalade
*This course is taught through two online platforms: Zoom for the workshops and a website called Circle where the handouts and recipes are hosted. You will be required to navigate technology that may be unfamiliar to you and to deal with the frustrations and rewards that this brings. We are a small team and cannot offer tech support for using the world wide web, including password assistance, logging on and off of websites, etc. Please consider that there are innate hiccups and glitches in technology that are beyond our control or influence. Consider this before registering. Recordings and recipes are not available for stand-alone purchase.  
No refunds or exchanges.