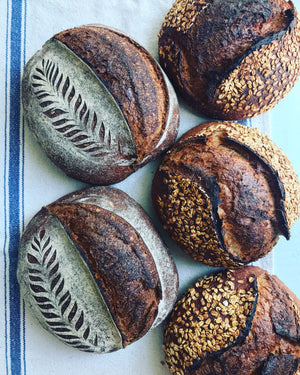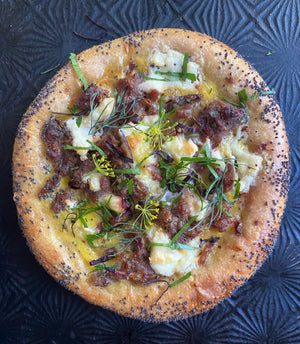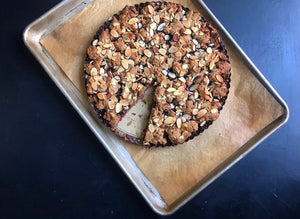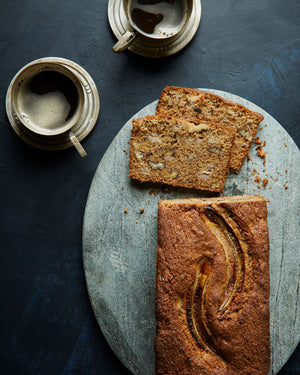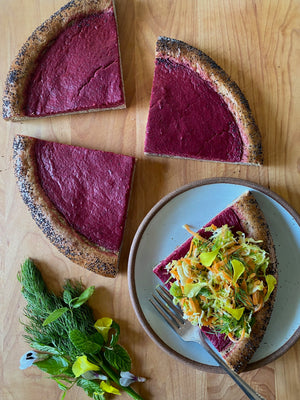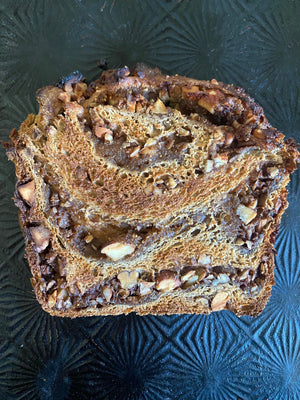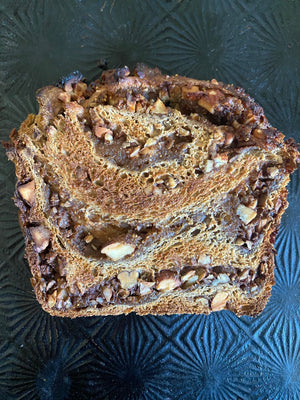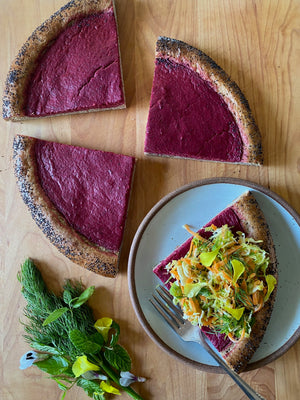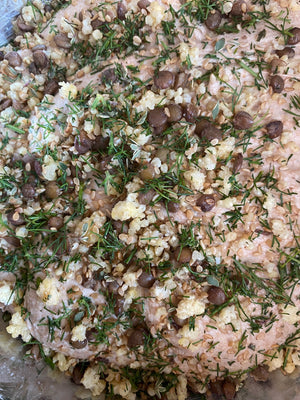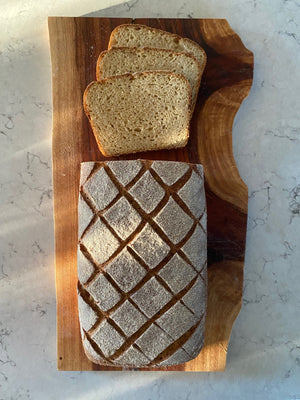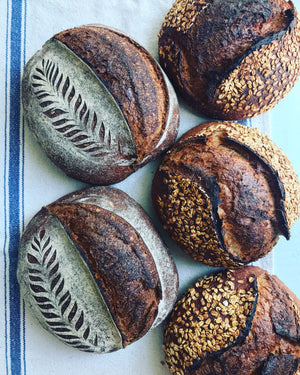 Advanced Wholegrain Baking Course
Choose From the Drop-Down Menu: 
April 30 - June 18, 2023
October 29 - December 17, 2023
PLEASE READ CAREFULLY

All workshops are scheduled for Sundays at 2pm PT, 5pm EST
Most workshops last between 2 and 3 hours, depending upon the number of questions asked. All workshops are recorded and sent to enrolled participants within 24 hours. 
This series is the follow-up to the Introduction to Wholegrain Baking Course that is highly recommended over this one for students with minimal wholegrain baking experience or little familiarity with sourdough. This course includes 7 workshops spread out over 8 weeks and does not include tutorials on sourdough starter maintenance or baker's math that are both foundational to success in this course. Please read the description carefully before making a purchase and note the dates in your calendar after making a purchase. 
Are you an experienced sourdough baker interested in incorporating more whole grains into your baking repertoire? Have you always wanted to know more about using heirloom grains and pseudo-cereals, modern wheats, or ancient grains for rich flavor, improved digestibility, and increased nutrition?
This interactive virtual course is designed to expand beyond a foundation of whole wheat baking to include a more diverse selection of grains and seeds in whole, sprouted, and stoneground flour forms. Each of the seven virtual workshops will be precluded by handouts to help you embrace the joys and idiosyncrasies of regional whole grain baking. The recipes are developed with North American stoneground regional flours but with some modifications, can be made with flours sourced in Europe and beyond.

These foundational recipes are exercises meant to explore the unique textures, performance, and flavors of stoneground whole grains as the star ingredient in seasonal bakes. Additionally, you will receive a link to schedule a personal one-on-one 30 minute consultation with Sarah at any time during the course's duration to help you troubleshoot or answer questions. 
Space is limited. The content listed below may be modified to the group's experience level after an intake form is completed or to accommodate seasonal ingredients. It is recommended to have at least 1 year of sourdough bread baking experience using flours in whole or sifted form and have an understanding of basic baker's math. Alternatively, completion of the Introduction to Wholegrain Baking course may qualify you to take a deeper dive and participate in the Advanced Course.
This is an intensive course that is hosted through Zoom and a community platform moderated by Sarah called Circle where the handouts and recipes are hosted. You are required to use these platforms to access and complete the course. Workshops last between 2 and 3 hours but please note, prep work 1 to 2 days before and the day of is required if wishing to bake the recipes in class. Attendance of all seven workshops is highly encouraged but each will be recorded and sent as a link to rewatch afterward for reference. Recordings are not available for stand alone purchase. To be added to the waiting list, please email info@ritualfinefoods.com and we will contact you when the next course becomes available. Sarah and RFF are not responsible for lost passwords or log-ins to either Zoom or Circle. 

April 30 or October 29, 2023
Part I: Wholegrain Sourdough Breads and Variations

We will begin by discussing the ways whole wheat flours are described, and how to develop appropriate expectations and adaptations accordingly when making naturally leavened hearth and pan loaves. The recipes will be basic exercises in becoming familiar with the performance of regional flours. Flours potentially needed for this workshop include a strong whole wheat bread flour (either white or red) and 1 to 3 'flavor flours' such as einkorn, rye, buckwheat, emmer, or Khorasan/Kamut. 

Demonstrations and discussion will revolve around:
Sourcing and milling of regional wholegrain flours.
Fermentation schedule of bread doughs using wholegrain flours.
Ash content, falling number, and enzymes of wholegrain flours.
The relationship between protein and gluten potential.
Combining low or no-gluten flours with strong whole wheat flours to produce pleasing oven spring in hearth style loaves.
Adapting to variations in regional flours. 
Shaping, scoring, and baking wholegrain loaves. 
Manipulating sourdough starters and leaven to achieve various flavor profiles and textures in bread.
Scalding flour. 
May 7 or November 5, 2023
Part II: Wholegrain Porridge Breads and Variations

Developing texture, aroma, and flavor in wholegrain breads is easy when using cooked porridges and seed soakers. In this class, we will explore the many whole or cracked grains that can be scalded or precooked before folding them into wholegrain doughs. The recipes practiced in class will be exercises in how to include a broader diversity of grains and legumes in naturally fermented breads. Ingredients potentially needed for this class include a whole wheat bread flour and whole spelt flour, wild rice, cracked or flaked grains such as oats, barley, and rye, and various seeds and legumes including lentils, millet, and flax. 
Demonstrations and discussion will revolve around:
Starch structure, sugars, and gel formation of cooked grains. 
Incorporating a broader range of biodiversity in baking ingredients for flavor, protein, and to support ecological farming. 
Using wheat flours with low to moderate gluten potential.  
Shaping, scoring, and baking porridge pan loaves. 
May 14 or November 12, 2023
Part III: Single Grain Breads

One of the best ways to develop an appreciation for the texture, flavor, and wide spectrum of performance of whole grains is to feature them in single variety breads. In this class, we will explore using ancient grains to make pan loaves, hearth loaves, and flatbreads, sometimes with the addition of sprouted grains, natural sweeteners, seeds, or nuts. Flours potentially used in this class include emmer, Khorasan, and rye. 
Demonstrations and discussion will revolve around:
Grain profiles including historical and cultural context.
Various styles of bread shaping and baking according to dough strength.
Pre-cooking flour. 
Sprouting whole grains. 
May 21 or November 19 , 2023
Part IV: Enriched Wholegrain Breads 

Fat is an excellent carrier of flavor and in this class, we will explore the ways that it can be used to tenderize and enhance the character of wholegrain breads. Flours potentially needed for this class include whole emmer emmer flour, brown teff flour, buckwheat, whole wheat bread flour, and whole spelt flour.  
Demonstrations and discussion will revolve around:
Various oils, butter, and other animal fats. 
Using dairy and non-dairy milks, eggs, and sugar. 
Sourdough fermentation of enriched breads and baking schedules. 
Shaping, scoring, and baking

 various styles of breads including pan loaves, babka, and tarts using sweet or savory fillings.
June 4 or December 3, 2023
Part V: Sprouted Grains and Flours

Sprouting increases the digestibility and nutritional benefits of any cereal with the added bonus of amplifying flavor. Sprouted flours require recipe adjustments to create baked goods with appealing qualities by adapting to their increased absorption rates, sweeter flavor, and quicker fermentation. We will explore the unique performance of sprouted flours and mashes through making a basic sourdough bread, a seeded bread including a sprouted mash and soaker, and a quick bread.  
Demonstrations and discussion will revolve around:
The biochemistry of the sprouting process and the technology of creating flours with consistent performance.
Creating sprouted mashes. 
How to make your own sprouted flour using a table top mill.
Proper hydration and adjusting the inoculation of bread doughs.
Using sprouted flours in combination with other flours for greater flexibility.
Shaping, scoring, and baking sprouted breads. 


June 11 or December 10, 2023
Part VI: Wheat-Free Sourdough Bread and Pastry 

As your experience with various whole grains grows, it is time to explore fermentation and baking beyond gluten-forming grains. Wheat-free breads without refined or processed starches produce a deliciously dense, moist crumb with rich flavor. Many of these flavor flours are excellent for making pastry and combine with other ingredients such as fruit or chocolate to produce compelling results. We will build confidence in working with more obscure grains and seeds such as teff, buckwheat, millet, brown rice, oat, and sorghum flours to make a Nordic-style pan loaf, a tart, and a cake. Psyllium husk and flax meal will be used as a binder in the bread. 

Demonstrations and discussion will revolve around:
Milling non-wheat flours at home or sourcing online and from retailers.
The ecology of minor cereals and their beneficial potential in farming. 
Creating and maintaining a wheat-free sourdough starter.
Variations on the recipes using what flours are available in your region. 
June 18 or December 17, 2023
Part VII: Fermented Pastries 

Sourdough can be used to create more than just bread and in this class, we will explore using it to fully ferment a seasonal chiffon cake and savory muffins using wholegrain flours. 
Demonstrations and discussion will revolve around:
Using a 100% hydration sourdough starter vs. creating an osmotolerant starter and the benefits and drawbacks of each. 

The biochemistry of using sourdough starter in combination with quick leavening. 

Substitutions and variations on the recipes. 
Space is limited. No refunds or credits. Please read through the descriptions carefully before making a purchase. 10 to 14 days prior to the start of Zoom courses, an invitation will be emailed to join the Circle platform where equipment and ingredient lists can be found to prepare for class. Please check your spam folder first before emailing.